Hello.
My name is Sharon.
I'm a packrat.
Welcome to the first virtual meeting of PRA, Pack Rats Anonymous.
After revisiting my post about
Organizing and Time to "Fess Up"
and it's follow up,
Confessions
for last week's
Alphabe-Thursday's letter "O"
, I decided to follow up with some support for those of us who can't stand the waste in our "throw away" society. It seemed natural to host a blog hop as therapy. So, today's post is just that. I'll share some of my reduce/reuse/recycle and more importantly, upcycle ideas and you can join in and share some of yours, practical and otherwise! It will be like a Packrat Party!
I'll start. Let's get the worst out of the way...in an effort to use/recycle papers/cardboard as a base for mulch and lasagne beds in the garden, I generally have a supply of empty cardboard boxes and stacks of newspapers in the garage that make my husband cringe. But, it's all for a good cause!
Here are other reduce/reuse/recycle/upcycle posts I've shared in the past:
There's
Snowmen and Angels
with recycled button eyes and accessories.
Second Hand
about teaching my kids how to be thrifty about clothing.
The posts from last week, like the
Greenhouse
, about the greenhouse we made from water pipe that was pulled from our well when the pump had to be replaced, parts of an old metal shed and a dog kennel.
Or an
Upcycled Old Sock
that was my daughter's favorite. I turned it into a cute plastice grocery bag holder.
I reuse my old cloth diapers or flannel shirts as pads for applying
Compresses, Poultices, Plasters and Fomentations
.
Or for covering a sore throat after applying
Clear Head Vapor Ointment
, we keep several old stained turtlenecks on hand.
Store bought salsa, etc., jars make excellent containers for the ingredients I keep on hand to make my herbal remedies and personal care products. See the Herbal Medicine Chest Page for more posts about all of that.
I also use some of these for dry beans, loose leaf herbal teas, etc. The best ones are those that canning rings will fit. New lids make pickle jars or others with lingering odors useful.
We have a stereo in the kitchen. See the speakers? They're hidden inside a couple broken baskets and an old crate. I was so happy to find a use for these baskets because it would have been such a shame to throw them away but they couldn't be used for much else.
The red cupboard is a 1900 Sears and Roebuck that we rescued from a basement. It was headed for the dump!
Admittedly, this table and chairs could use a little work but they serve as our "picnic table" on the porch. Add a homey tablecloth and a canning jar of flowers and it looks nice!
An old, rusty cupcake tin makes a place for potpourri and candles or a place to separate jewelry or beading supplies or lined with cupcake papers for candy or nuts.
Old tins (dented sides to the wall), a picnic basket and my kraut crock look homey and make good storage for extras.
Well, I'm feeling better...how about you? Come on...you know you've done it! You've kept something that most folks would have thrown away and found a new use for it. Please share your story with us here. It's time to "fess up" and admit that you might be a bit of a packrat, too! And that's okay!

Just click below to add a reduce/reuse/recycle/upcycle story of your own.
Links should go directly to your post and not to your home page.
Posts can be old or new but...Please be sure to place a link in your post back to this hop so folks can see all the ideas. All entries must be PG.
If you'd like to run this hop on your blog, I'd love to have you join me. Click on the text below the linky and grab the code. Should be fun to see how many folks we can reach and what kind of ideas we can gather.
Sharing the mayhem of PRA with
Homestead Blog Hop
,
Jenny and friends @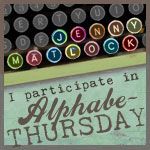 and Alex and friends @