This is officially the last day of the initial 2 week Honey Challenge from Crunchy Betty. But it's only the beginning, really. If you haven't joined in, you can start today! Read a little about it here and all about it @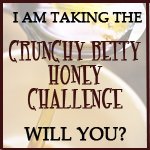 I'll admit that I was a little skeptical about the process when I started. But if you remember, it was the hottest it's been here since like 1960-something with high humidity for about 5 days. That's like the first time in my life it's been that hot here and I'm no Spring chicken!
All in all though, I can say that I may not wash with honey every day but I'm certainly going to try to do it 2-3 times a week. And you know me, I like to fiddle with different combinations of things so I'll keep you posted on that. Crunchy Betty does, too. Check out all the info she's shared over the past two weeks.
What I may try is going back to my before honey routine and then starting again without the heat factor. My skin was a little tender at the start but as I said the other day, that may have been the humidity and the toxins being drawn from my skin. That's all in the past now and I'm really happy with the results.
My recommendation would definately be to give it a try. Don't be afraid...you know you want to do it. Stick with it...once you get past the really deep cleansing that may cause a little irritation, you're in for a surprise!
One more tidbit I'll share is this...
It's like a facelift every morning! I was going to be selfish with that one but, hey, you needed to know for the future. The honey seems to tighten my skin and close the pores making my face not only smooth and fresh feeling but, really...the skin feels and looks...tighter.
Try it!
Much herbal love,