In an effort to cut down on refined sugar I've been using either rapadura or evap cane juice + 1/2 tsp/cup of molasses to replace brown sugar in our recipes. My daughter wanted to make chocolate chip cookies to share with some friends so she started mixing before she realized we didn't have brown sugar. I simply told her to add a little molasses to the evap cane juice...so she did...1/8th cup! I thought that might be a little on the strong side but much to my surprise, the chocolate chips and molasses taste great together! Everyone loved them! So she called them, Holiday Chocolate Chip Cookies! Like Christmas in a cookie!
2-1/4 Cup + 2 TBSP flour
1 tsp baking soda
1 tsp salt
1 cup butter
1/8 cup molasses
1-3/8 cup evap cane juice
1 tsp vanilla
1 cup semi-sweet chocolate chips
Beat sugar, molasses, butter and vanilla until creamy.
Add eggs, one at a time, beating well.
In a separate bowl, mix dry ingredients.
Gradually add flour mixture to sugar/butter mixture.
Stir in chocolate chips.
Drop by rounded tablespoons onto baking sheet.
Bake @ 375 for approx. 10 min.
Allow to cool on sheet before moving to wire rack.
This post is linked to: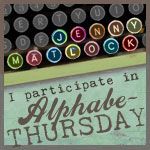 TUESDAY TWISTER
blog hop hosted by GNOWFGLINS.