During a community theater play I needed to apply a facial mask for one scene and then quickly remove it before going on again. All I could think of was how dry my face would be by the end of the run so I started thinking about ways to make the mask beneficial and easier to remove than traditional clay masks. What I came up with was better than I expected and it makes my face feel so clean and fresh! Now that the play is over, I think I'll keep some on hand to use on a regular basis.
Cleansing Facial Mask
I started with a basic cold cream recipe
Galen's Cold Cream
;
1/2 cup distilled water
3/8 tsp borax
1/2 cup almond oil (may use oil of your choice)
2 Tbsp grated beeswax
See directions
To this I added;
1 Tbsp sea clay
1 Tbsp kaolin clay
(or other clay of you choice)
optional:
5 drops lavender essential oil (for its healing properties plus I love, love, love the fragrance!)
5 drops peppermint essential oil (to provide a fresh, perky feeling)
Use any combo of EOs to customize your mask.
In a heat resistant container dissolve the borax in the rosewater and set aside.
Mix almond oil and beeswax in another heat resistant container. Heat in a water bath or microwave until beeswax is melted; stir well.
Heat water/borax to same temp. as oil/wax; hot but do not boil.
Begin to whip the oil/wax mixture with a stick blender while slowly adding the water/borax.
Then whip to a light, cold cream texture.
Continue whipping while adding clays and essential oils.
Allow the mixture to cool and store in a clean container with a lid.
Gently massage a small amount onto your skin. You can allow the mask to dry a little on your face or you can remove it shortly after applying. To remove, tissue off or use a warm wash cloth to gently wipe away the mask. Rinse with warm water and follow with cold rinse.
Leaves your skin feeling soft, fresh and invigorated! Makes a great gift!
I'm sharing this post with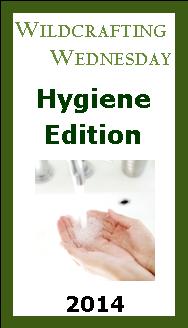 Wildcrafting Wednesday
and
Stangers and Pilgrims on Earth Body Care link up