The following basic cold cream recipe was taken from Janice Cox's book,
Natural Beauty from the Garden
. Janice gives the following background for the recipe;
Cold cream was developed by the Greek physician Galen in the second century. It's probably one of the oldest cosmetic recipes still in use today. Two beauty staples in this recipe are rosewater and olive oil. As the rosewater in the cream evaporated, it created a cold sensation on the skin that the Ancient Greeks enjoyed, thus the name.
This easy to make cold cream can be used to remove makeup and gently cleanse skin keeping it soft and smooth. Cold cream can also be used as a heavy moisturizer for hands and feet as you garden. Apply before putting on your boots and gloves to prevent drying and cracking as you work.
Rosewater gives the cream a light scent but for an unscented cream use distilled water.
Galen's Cold Cream
1/2 cup rosewater or distilled water
3/8 tsp borax
1/2 cup olive oil
2 Tbsp grated beeswax
In a heat resistant container dissolve the borax in the rosewater and set aside.
Mix olive oil and beeswax in another heat resistant container. Heat in a water bath or microwave until beeswax is melted; stir well.
Heat water/borax to same temp. as oil/wax; hot but do not boil.
Begin to whip the oil/wax mixture with a stick blender while slowly adding the water/borax.
Then whip to a light, cold cream texture which will thicken as it cools.
Store in a clean container with a lid.
To use: Massage a small amount in to your skin and tissue off or rinse with warm water.
This cold cream makes a great gift for special friends on your list. Combine it with my
Cleansing Facial Mask
for a special treat!
Sharing this post with the folks @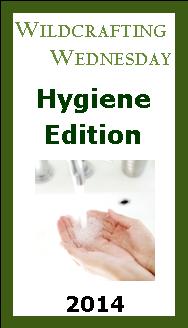 Wildcrafting Wednesday
and
Strangers and Pilgrims on Earth Recipes for Bath and Body Care