I love to start my latte in this beautiful pour-over combo made by a local artisan.
Here's a treat that a friend introduced me to a long time ago. When I became more conscious of what I was eating, I put it aside with regrets. But now I've adapted it to fit into a healthy diet. Well, at least a little better!
Think Hot Mocha Cinnamon Hazelnut Latte topped with Whipped Cream!
Organic coffee, I prefer hazelnut.
Cream from raw milk (whipped but not sweetened) or homemade marshmallows)
cinnamon powder or a cinnamon stick
organic chocolate shavings (in a pinch use organic chocolate chips)
Brew coffee a little on the strong side
add cream if you like
Top with a dollop of whipped cream (or homemade marshmallows!)
Shave chocolate over the top
Sprinkle with cinnamon or add a cinnamon stick and top with a cherry.
Sweeten with a little, tiny pinch of stevia, if desired.
Enjoy with a piece of almond biscotti!
The sky's the limit for flavorings and you can always add a healthy version of coffee syrups or toppings to make special treats. Move over Starbucks. We're making our own latte at home!
This recipe is a nice surprise if you're caught by company without anything on hand to offer them. It looks like you fussed but only you know the truth!
I'm sharing this with Jenny and friends @ Alphabe-Thursdays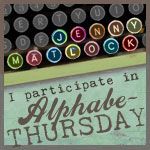 Be sure to check out my new Facebook Page
@
http://www.facebook.com/Woodwife61
!
Hope you "Like" it!
Much herbal love,